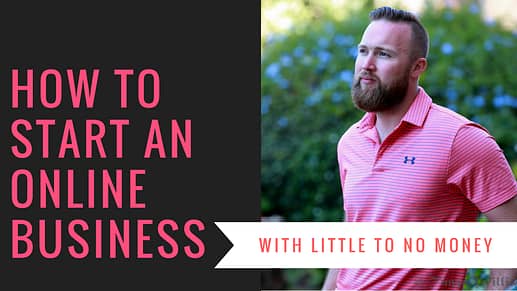 Today I wanted to do a quick Question of the Week (and a question I get quite often). How to start an online business with little to no money
WATCH THE VIDEO BELOW:
(Click Here To Watch On YouTube)
Q: I went to trade school for music production, started an eBay business, and I have a big medical bill. It's right around $5,000 in debt. I make $400-$500 per month at my job and it just isn't paying the bills. My eBay business just isn't enough to rely on, so I want to plug into ONE system and really focus. Can you use this system for 14 days and get results? Are there a lot of fees in this business?
A: I will answer this step by step since this is a loaded question. First of all, I can definitely relate to this. I was once at a point in my life where I was about $16,000 in debt.
I just want to make a point here — what you think about, you bring about. What does that mean? It means that whatever you focus on, regardless of your intentions, you will attract that into your life. For example, the other day I was driving in my car and I was thinking to myself that I needed to avoid this pothole. And 15 seconds later, I hit a pot hole and blew out my front passenger tire. This was a perfect reminder that whatever you focus on, expands.
If you keep focusing on the fact that you don't want to get bad grades, the core thing you are thinking about is getting bad grades. Instead, turn it into a positive and say that you want to get good grades. This way, the main focus in your mind is getting good grades, instead of bad grades.
So I would urge you to stop focusing on the debt. If you keep telling yourself that you want to get out of debt, your main focus is debt. Insanity is doing the same thing over and over again and expecting a different result. If you keep working at the same job, you are going to keep making $400-$500 per month. The only way to get out of this is to start focusing abundance and manifesting money.
Regarding costs to this system — one thing that an online entrepreneur has to understand is that you have to make financial and emotional investments on a consistent basis. You have to be 100% all in. If you continue to enter new business opportunities from a state of fear, lack, and limitations, then that's all you are going to attract and produce in your life.
This journey is going to require you to put in the time, money and effort.
IF YOU ARE LOOKING TO START AND ONLINE BUSINESS FROM SCRATCH WITH LITTLE TO NO MONEY, CLICK HERE TO GET ACCESS TO MY TOP RECOMMENDED SYSTEM THAT TOOK ME FROM ZERO TO MULTIPLE SIX FIGURES PER YEAR
Please leave a comment below, I would love to hear what you think!
Please subscribe below to get automatic updates of my latest video blogs: