The Fearless Momma system has stated that newbies can easily earn $250 commissions.  Not just once, but many times over.  That's really quite impressive if their claim is true! This would be an incredible platform for newbies if it really does work, if not, well then it would just be another fly-by-night scam.  Let's take a closer look:
Right here and now, you will get valuable information before deciding to sign up:
The Fearless Momma website is run by Timothy Berger who has firmly stated you will discover the easiest, proven blueprint to create cash flow. This platform is an instant funnel that can bring you $250 or more in commissions over and over again. On top of that, you do not need to know anything about selling!
We watched the 4-minute video and read over their sales page. Quite honestly, I must admit the sales copy is extremely convincing and presents a very attractive offer to someone looking to make money online even though they are a newbie.
Keep in mind, if you choose to join up, you will be using the same page for making sales. On the other hand, whether this site is for real can be questionable. Whether you will actually make money can be questioned which we will touch upon in a bit.
The Fearless Momma Review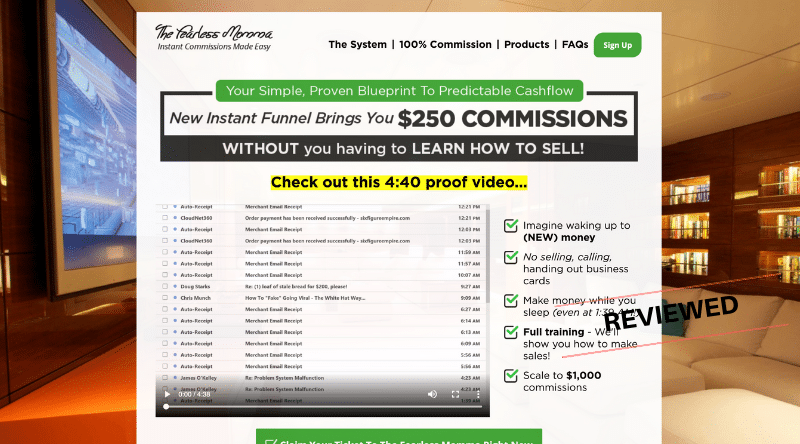 You join this program for $250 and will then have access to their training modules and then start making money by promoting the system to other people.  Also, you will learn that if you buy higher ticket offers, you could qualify for higher commissions.  That said, this concept is nothing new, it has been used before.  This business module is known as a "pay to play" business and there are some negative aspects to take into consideration.

How Fearless Momma Works:
First off, you have to put your email into an opt-in form in order to have access to the sales page. Once you have access to The Fearless Momma sales page and join for $250. You will pay this money to the person who referred you.
Then you will be using the same opt-in form and sales page which will have a code just for you. You will use this page to recruit other people into the system. As an option, you can purchase higher ticket up-sells and qualify to earn more money when your referrals also decide to purchase upsells.
That said, the first thing is getting your initial email lead. You can use your own opt-in form or have it done for you that each member will receive.
The Fearless Momma Lead Generation Form

If someone subscribes, they will be marked as your subscriber.  You will market to them over and over until they decide to unsubscribe.  If that person decides to buy in, you will be paid by them, directly, because you are their referrer.
This is how you are able to make 100% commissions from the system because everyone is paid directly and it is also what makes this system similar to cash gifting.
This means you are not buying products from a company, you are giving $250 to the person who referred you and then whomever you bring in gives you $250, etc. Note, you do receive products in return for your money. That said, no one is joining for the products, they are joining for the potential to make money.
To sum it up, if you make a sale, you will make even more money if your referral upgrades to the higher ticket products.
Breaking It Down:
The high ticket upsells are a large part of this system.
They are $1,000, $3,000, and $5,000 Upsells
The upside, this does give you the opportunity for higher earnings. The downside, it also means higher costs for you.
The first giveaway is on the sales page and states you can upscale to $1,000 commissions. Well, it seems Tim Berger also has a system called Six Figure Empires which will cost $1,000 plus the admin fee. So this comes down to the $1,000 upsell is a part of the pipeline and it appears it is not the only one.
I watched a few YouTube videos so I could get a look inside the members' area. This area is where I discovered Tammy Montgomery is actually the real Fearless Momma!
The back office shows there are three main upsells. – $1,000, $3,000, and $5,000.
The Fearless Momma System Upsells – Earning large commissions rocks! However, you will lose out on the commissions if you do not buy these products yourself. The person above you will get whatever commissions you do not qualify for.
All in all, you need a pretty good-sized budget to make real money through this system.
RECOMMENDED: Go here to see my no.1 recommendation for making money online
The Fearless Momma – The Products
As a Fearless Momma member, you will get 7 modules of training along with some extra content. You might wonder if the training has any value. Well, quite honestly, it's in the best interest of those running this business if you receive helpful information for promoting their system. Therefore, the training does seem to hold some value.
You might ask how much of this training information is of real value? Keep in mind, 100% of the product sales goes to the person who referred you, not to the company. You do get real training for the money you have spent but are just bundled in with the business opportunity. You can not buy these products as a retail customer, you can only get them if you join this business opportunity.
Also, I must mention there are no refunds! The reason is not that they are digital products as the company claims. Almost all popular digital product marketplaces offer full refunds, so that's just not true. The fact is, there are no refunds because you are directly paying the person who brought you in.
Hopefully, the training will teach you some real internet marketing skills. The bottom line, this is about recruiting opposed to buying products. If anyone tries to tell you otherwise, they're not telling you the truth.
What Are The Chances Of Actually Making Money On Fearless Momma?
In short, yes you can make money with their system. There is no doubt you can join this system, put people in front of your offer, and earn $250 from each. Making a profit is a whole different story!
Consider The Costs:
There are 2 main costs for making this business profitable. The upsells and the cost of driving traffic to the offer page. The upsells are the real profits when your referrals upgrade. In order to be in a position at that level and earn larger commissions, you need to purchase the products for yourself.
For driving traffic, you will need to have a hefty budget. You are an affiliate of this program which means if you join, you need to drive in traffic! To get traffic, you must buy it or earn it! If you decide to "buy" traffic, it's going to cost a great deal of money before you will ever see returns. You can run solo ads but it will cost you anywhere from 0.50 to $1 per click.
If you plan on earning the traffic, you'd better be ready to work really hard for a good amount of time. It is possible to generate a good amount of high-quality traffic without spending money but it will take time, persistence, and a great deal of effort. The bottom line, you must have a steady flow of traffic if you expect to make money with this system.
Adding to that, you really need to have internet marketing skills so you know how to properly market in order to make money.
You can have a plug-in to the system and start using the existing sales funnel. Keep in mind, funnels that are done for you are being used by every single affiliate member on the site. That means at some point you will start converting at a lower rate.
There is absolutely no substitute for learning internet skills to run your business.  It will take time and work to make a profit but that's no different from any other online business.
RECOMMENDED: Go here to see my no.1 recommendation for making money online
The Fearless Momma Review – Is It A Scam?
That's a question you need to answer for yourself and decide if you think this is a scam or not. I do believe the business model is somewhat questionable. These are my reasons why:
The nature of the business is pay to play and loaded with high ticket upsells which is exactly why other well-known programs such as MOBE and Digital Altitude were eventually shut down by the FTC.
It also has some similarities with other companies I've reviewed such as 30 Day Success Formula and EZ Bay Payday
Fearless Momma is all about recruiting people who, in turn, recruit other people and members pay other members directly.
I also believe the cost is way too high for ticket products. You should never have to spend that kind of money to learn how to build a legitimate business online. In most cases, these high-end ticket products are way overpriced simply to facilitate large commission for those who participate. You can spend 1/18th of that cost and take a legitimate course online to learn marketing skills the right way.
The Fearless Momma is not really a scam as you do receive training for your money and you can earn money by recruiting others into the system. Also, I do not believe the sales material is over-hyped in comparison to some stuff I've seen. That said, I do have some concerns about the business model that is targeting novices and newbies.
In Conclusion
Fearless Momma is a system that will allow you to earn multiple commissions of $250 each and even high commissions if you upgrade.
You can make money with the system, maybe even a lot of money. You can learn some valuable internet marketing skills along the way.
Personally, I would not recommend this system especially to those who are novices and/or newbies. As I mentioned earlier, this is all about massive recruiting and convincing others you recruit to spend a lot of money and upgrade.
The bottom line, most people do not have that kind of money and even if they do, there are far better and less expensive ways to spend money to build a legitimate online business. Also, it does not involve recruiting others to jump on board, no cash gifting, nor high-end upselling.
The final decision is totally up to you.  Hopefully, this review will help you make a more informed decision before jumping on board with Fearless Momma.
RECOMMENDED: Go here to see my no.1 recommendation for making money online