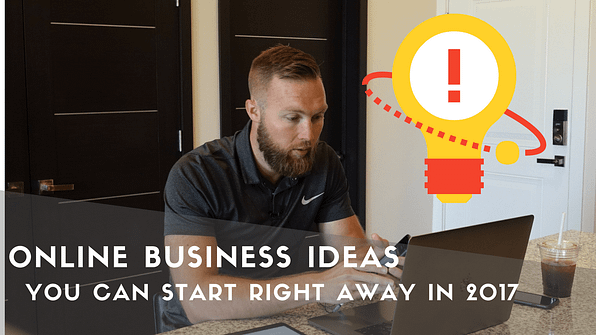 Today I want to share with you some online business ideas that you can start right away in 2017.
WATCh THE VIDEO BELOW:
(Click Here To Watch The Video On YouTube)
Before you even think about what business you want to start, you need to decide whether you are money driven or passion driven.
If you are passion driven, you need to get started with your new idea with the energy that you want to truly help somebody else. Your heart and your mind both have to be in the right place. The only way you'll achieve this is to go into something that you are passionate about.
If you are motivated by money, the best route you can take is to go into something that you know a lot about. I have seen people go into e-commerce who are not passionate about t-shirts but they crushed it because they understood how it worked and they knew a lot about it!
So let's dive into a few ways to get started online right away. If you do this correctly, you can profit nicely.
One way is by starting a youtube channel. Be consistent with putting out your content and always promote your channel whenever you can. Over time, what will happen is you will start earning an income. This can take anywhere from a few weeks to a few years for you to really begin to maximize your earning potential.
You can also start a blog if you are passionate about writing. If you think you have writing skills good enough to stand out, then post on your blog consistently. Blogs are great when paired with Google AdSense, Affiliate Networks, Network Marketing, Brand Collaborations, etc.
You can also start a podcast and use social media to drive listeners to your content as well where you promote different products and services to make money.
You can write a book and combine a lot of these other methods to spread awareness about your book. You can get creative with your publishing and publish it on iTunes, Amazon, and other digital book services to get your foot in the door.
Another popular online business is freelancing. Freelancing is where you perform services for other people, organizations or companies as a contractor. So you are not an employee for them but they still pay you to do the work. Some examples of freelance work would be writing/blogging, graphic design, photography, video, IT services, web development, etc. Find something that you are good at and start doing it for other people to make money. Some good freelance websites are upwork.com, elance.com, guru.com.
So, there are many different ways, but you want to go where the attention is. One of the main reasons I love uploading videos is because video is popular, people consume information a lot faster via video, and it's just where the market is right now.
If you want a little bit more information on how to launch your own affiliate marketing business, CLICK HERE for my Top Recommended System for building a 6-7 figure income online.
Please leave a comment below or let me know any questions you have.  I'd love to hear what you think!
Please subscribe below to get automatic updates of my latest video blogs: