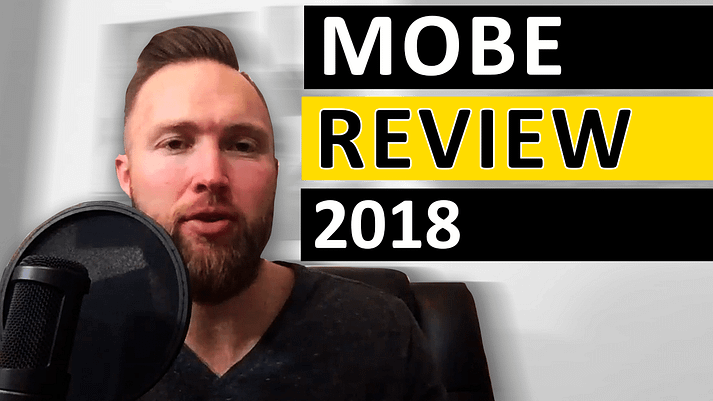 TRANSCRIPTION:
Mobe Review 2018
Hey guys, what's going on? Joshua Elder here with yet another review for you. Today we're going to be going over MOBE and I've done a overview of this roughly a year ago, but we're going to dive deeper into this actual MOBE review. Which I'm going to tell you exactly what's in the product line, tell you a little bit more about the owner, and I'm also going to tell you how you can start making money with MOBE if you feel like this is something that's a good fit for you.
Now most of you know who I am. For those of you that don't, you're here for the first time. Been in this industry for roughly 10 years now, struggled for five with just constant overwhelm. So many products coming out, so many opportunities, didn't know where to start, dealing with paralysis analysis. My mind was constantly spinning. I didn't know who to listen to, who to turn to. And so I came to a point I was either going to quit or I was going to learn this thing. And so I decided, well, there's so many people out there that were struggling and are struggling like I am, so what I'm going to do is take my hard earned money, invest into these programs, show people the back office of these programs, and then give people my honest review on whether they should go ahead and spend their hard earned money on these programs.
And so that led to helping a lot of people. I ended up making a lot of money through a lot of these promotions. Most of the time, these products were complete scams. They didn't work. And so you know I eventually became wildly successful with one specific program because I finally got focus and I focused on one thing for the long term, which is a hint for you guys. So I was able to take people from these programs that didn't work and this overwhelm, to focusing on one program that does work. And that's part of the problem is people get so overwhelmed. And it's not that all these products don't work, it's that people are constantly getting distracted with the next best thing.
So I'm going to go through this review and we're going to dive deeper into this. I'm going to give you guys my honest transparent outlook on whether MOBE can help you. So let's go ahead and dive in. Number one, you have to pay for the MOBE system. And what this system does is it does all the selling and telling for you. That's the whole purpose of the actual system is you pay $49, one time fee, okay? And then you pay 19.95 to resell and promote that very system. Right? So people will come through that same system and then what will happen is they're introduced to other products. Right? They connect with a coach and then this coach will educate them on what an online business is and how it works.
Mobe Review – Ascension Business Model
And then there's different stages that these prospects, including yourself, will be pre-framed for. And then you'll be introduced different products and be up sold on different products. Now most people may think, "Man, I hate up sales. I don't want to get up sold. I just want to buy one product and have success." And there's a method to the madness, you guys. Look at all the successful businesses out there. Look at Apple, look at GoDaddy, look at the sales processes of these big companies and they don't just focus on selling one product to one person. They have multiple products that they sell. Right? They have, for example, Apple has lower end products like the iPad. Ranges anywhere between 200, $300, up to 600.
Then you got a laptop, and then you have the iPhone, and then you have different series of the laptops, then you have an iMac computer, and so on and so forth. So Apple is not just interested in selling one product. They won't make any money. They would wouldn't even … They'd be in the negative on their advertising. So they need other products in their product line to be able to make money.
And so, so many people complain because they got to spend money on different products but that's how a real business is built. You get a franchise, right? You get a McDonald's franchise, you're spending at least half a million dollars. Right? And so I'm going to be real with you, any successful online business, and I'm no way endorsing MOBE at all whatsoever in this video. But each successful business model will have different products that you need to purchase in order to succeed.
Because once you purchase those products, you can license those products and resell them, and earn bigger commissions, and be able to spend more on advertising, and have more leverage, and make more money, and make what you're worth. And I realized this. It's changed my life, guys. When I realized that I can make twice as much money, three times, even five times as much without any extra work, because I plug people in the right system, it changed my life.
Back in 2011, I was promoting ClickBank products, which is a digital marketplace where you can pick through all these digital products and then promote them and receive a commission. So I'd promote a $100 product I wouldn't have to pay for it. And when I sold it I's get a $50 commission. That was kind of cool, but I wasn't making life changing income. Right? I get paid for every cell but I realized that these cells pages that I was sending people to only converted at 1%. So I'd have to send a hundred visitors per day to make $50 if I was lucky.
And to do that, I either had to spend a lot of money or I had to spend a lot of time blogging and creating content. That took so much time. So once I transitioned into this high ticket business model, It changed my life and I saw the vision with this. So you guys kind of understand why you need to invest into yourself, invest into your business.
High Ticket
So MOBE is a high ticket business model, right? And they offer different programs that are high ticket. There's like a $2,000 product, there is like a $16,000 product, there's a $9,000 product, and there's a $29,000 product. And then each of these products come with a monthly affiliate fee that will allow you to make more commissions on each of those levels. So instead of making like 20%, you'd make 25%, or instead of making 25%, you'd make 30%. So you'll notice once you get in for $49, so you pay the 19.95 for month, you'll get introduced to other products, and you'll be educated on what an ascension business model is, which is basically what I told you. And then you'll have the option to purchase each of these products.
And you don't have to do it from the get go, you can eventually build up to that. But the higher that you can position yourself, the more money you can make, because you can only make money off of where you're positioned. Okay? And you can't promote something that you don't own. It's like a car salesman selling a brand new Mercedes to somebody when they just bought a brand new BMW. Right? Very contradicting, that's not going to work.
I've also got a few videos about different brands that Mobe hides behind. Recently I've discovered my millionaire mentor. It's basically a front end system that leads into Mobe.
Mobe Review – CEO Matt Lloyd
So Matt Lloyd's the owner, he's been wildly successful in his online business career. I actually just saw an ad that came out on YouTube where he was promoting MOBE and he has his own island so he's got this full team. MOBE is very, very big. And you know there's people like, obviously, himself, there's John Chow, he's really big into blogging. You may be familiar with the name. He's made quite a bit of money with MOBE, but it really comes down to finding the right mentor.
Right? The system's important because you want to be able to make more with less effort. Right? And going back to promoting ClickBank products, I was making like 5 to $600 a month like working my butt off. And then all I did was I changed out the product I was promoting on the back end, and I went from making $500 in commissions to $5,000 in commissions per month without any extra work. Right? Because I just changed the system that I was promoting on the back and that's it. Right?
So that changed my life. I'm like, "Wow, this didn't even take any extra effort other than changing what I was promoting." And then I went from making 5,000 to 10,000, 10,000 to 20,000, I eventually made up to $50,000 in one single month promoting a high ticket system. Now it wasn't MOBE that I was promoting, it was another system. Because it's a system that I believed in because I believe in the community, I believed in my mentor that brought it to my attention. And it's one of the best decisions that I ever made because of the community that we have. You know I hold weekly calls helping people, walking them through how to build a successful online business. The psychology behind it, I'm there for support.
You reach out to me on Facebook, I'm going to answer you. Right? You reach out to me through email, I'm going to answer it, right? You go to my Facebook, you can contact me however you want, and I want to be there whether it's with what I'm doing or with something else, I will lead you in the right direction. Put people first over profit and I would love to help you. So I don't endorse MOBE. I'm with another company, I promote other products and I obviously gave you the reasons why.
Conclusion
And I would love to have you on board. If this sounds good to you, if this is something you're interested in, click the link in the description below and go ahead and check it out. And what's great about this is it took me from being a broken busted jewelry salesman, a college dropout, to being able to plug into a proven system, follow it just simply step by step, follow directions, take consistent action and it's changed my life.
So if you're somebody that's willing to be coachable, you're willing to take action, you're willing to do exactly what I outlined to you, and kind of show you the proven steps and actions to take.
If you're somebody that's willing to do that, we'd love to have you onboard. Go ahead check out the resources section below. Like this video, give me a thumbs up, comment below if you have any questions. Please, let's start a conversation and subscribe to this channel. I'm always uploading videos on a daily basis. Showing you how to build a life and business full of freedom, passion and fulfillment. Take care and we'll talk to you soon.
Do you want to see the #1 system I've personally tried and tested true to build and grow my business online?  CLICK HERE to check out it!
Please leave a comment below or let me know any questions you have.  I'd love to hear what you think!
Please subscribe below to get automatic updates of my latest video blogs: