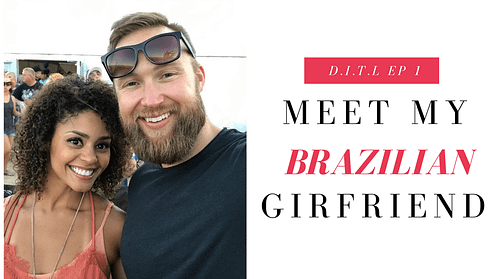 So on Friday, August, 4th I decided to give you all a sneak peak into my life by shooting Episode One featuring my Brazilian Girlfriend, for a new series called A Day In The Life.
WATCH THE VIDEO BELOW:
(Click Here To Watch On YouTube)
Don't forget to watch the video above to meet my Brazilian Girlfriend!
Nayara and I decided to hit the gym, but first, we had to make a pitstop at Starbucks for an Iced Americano. We had a great workout, so to reward ourselves we decided to hit one of our favorite spots — ProteinHouse. At this point, I was going on nearly 8 hours without food since waking up. My quesadilla was great, even though I got nearly half way through before my girlfriend got her meal.
Once we finished eating we headed out to Complete Nutrition to grab some Maple Glazed Donut protein bars called ONE that I have been obsessed with recently.
Upon getting back home, I caught Nayara in the middle of some incredible artwork tributing Amy Winehouse. She is an absolutely amazing artist, so incredibly talented.
We just wanted to relax on this amazing Friday because I have been working insanely crazy hours all week. I plan to do a VLOG at least once per week!
So, if you're looking to build a business and a life full of freedom passion and fulfillment, or maybe you already have a business and you just want to position yourself so you have more freedom in your life, I think that THIS will help you!
IF YOU WANT TO LEARN MY TOP RECOMMENDED SYSTEM THAT HAS ALLOWED ME TO NOT HAVE TO WORRY ABOUT A 9–5 JOB, MAKE MULTIPLE SIZ FIGURES PER YEAR AND SPEND MY TIME DOING WHAT I LOVE, THEN CLICK HERE NOW.
Please leave a comment below, I would love to hear what you think!
Please subscribe below to get automatic updates of my latest video blogs: