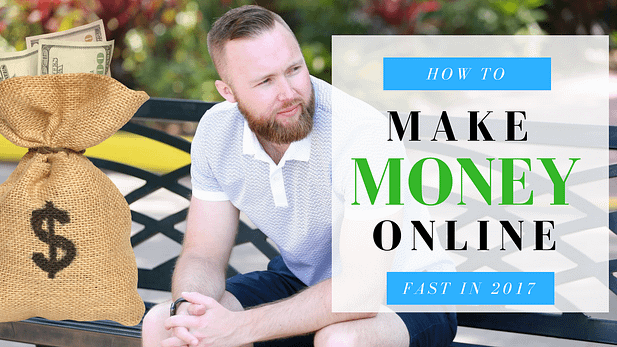 Hey Hey!
Do you want to learn step-by-step how to make money online fast in 2017?
This is something that I have been focusing on for the past 3 years online and I'm super excited to be able to show you the details today!
WATCH THE VIDEO BELOW:
(Click Here To Watch On YouTube)
Don't forget to watch the video above to see my income proof!
By far, one of the easiest ways to get started with making money online fast in 2017 is by selling digital products on ClickBank.com. Once you create an account with them, you'll go to the Affiliate Marketplace and choose a category that you are passionate about, or know a lot about.
Once you pick your product, you'll click the "promote" button to receive your unique affiliate link. Anytime someone goes to that specific link and buys the product, you get a commission because you are the only person on the Internet who has that particular link to your product.
Now you need to promote this link. There's a lazy way and a not-so-lazy way to do this — and I'll show you both.
If you head over to YouTube and search your keyword phrase, go to the channel of the video that is ranked #1 and #2. Go to the "About" area of their channel and find their email address for business inquiries. What you'll need to do now is craft a short email letting them know that you're interested in promoting a link on one of their videos.
Be sure to ask them how much they charge, and whether or not they charge monthly or weekly. They will come back to you with one of two answers: yes let's do it, here's how the process works, or no, I don't allow that on my channel.
The not-so-lazy way to go about promoting your link is to create a 2–3 minute video about your particular keyword phrase. Maybe watch the first couple videos that are ranked on YouTube, as well as do some research on Google and use your own expertise to create this content. When you create this video, be sure to give them a small nugget of free value but don't forget to encourage them to click the link in the description of the video for more information.
Once you do this a few times, you'll begin to understand what these videos are worth to you and that every time you upload a video, you make, for example, roughly $200 off the bat. Once you realize this, you'll start cranking out videos like it's your job (because at this point, it should be your job!).
So that's how I do it. Then I use SEO strategies to rank my videos at the very top of the search engine, and I do have a course that teaches you how to do that.
And, if you want a product to promote that's high ticket where you can actually earn even bigger commissions, I do have a system for that as well!
IF YOU WANT EXCLUSIVE ACCESS TO MY TOP RECOMMENDED SYSTEM THAT HAS GENERATED MULTIPLE SIX FIGURES ON YOUTUBE, CLICK HERE. 
Please leave a comment below, I would love to hear what you think!
Please subscribe below to get automatic updates of my latest video blogs: