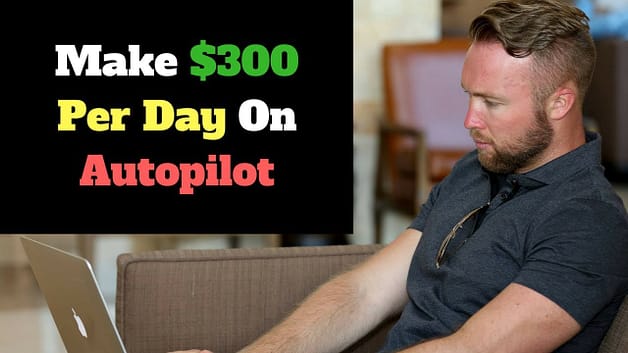 In todays post, I'm going to show you how to make $300 a day with automated websites and, no, this is not Flippa.com. There's a lot of YouTubers out there talking about Flippa and how you can buy websites for under $100, and make up to $300 a day from these websites.
Although that may sound practical and it may sound good, success is in the details. The truth is it's going to take work for you to go out there and promote these Flippa websites. I'm going to show you exactly how much work it's going to take, and why your time would be better spent elsewhere.
Check out the video below:
(Click Here To Watch On YouTube) 

Now let's talk about Flippa websites and why you shouldn't be using Flippa to automate your online business.
Number one is you have to buy the website, the turnkey website. Not a big deal. It's automated. It's already set up. You don't have to worry about the graphics or anything. Great right? Wrong. Here's the thing..
You're going to have to worry about promoting that website.
The way that most of these YouTubers are teaching is that you promote the website through Facebook groups. What happens with Facebook groups is when you post a website article in Facebook groups, eventually that post is going to get drowned out by other people's posts.
You might get a few clicks here and there. Then, once people land on your website, you need to monetize it. The way that "they're" teaching you to monetize it is through Google AdSense program, and that's great to do on the front-end. But, you have to make sure that you have your ad in a place on the website that's going to get the most clicks. A lot of times when you do get clicks, you're only making pennies.
You might make three cents here, five cents here, 10 cents there just by promoting in Facebook groups. This is something that you have to do every single day. You're always having to worry about promoting, promoting, promoting. Worrying about having to get traffic to that website.
RECOMMENDED: Go here to see my no.1 recommendation for making money online
How To make $300 Per Day With Automated Websites –  Get Passive Website Traffic
The way to do that is to learn search engine optimization (SEO). For example, If somebody is going to Google and they type in "Donald trump unleashes new political earthquake with fbi,"  what you want to do is optimize your article for that current event so it ranks at the top of Googles search engine. Unfortunately, alot of these articles on these turnkey websites aren't optimized for SEO purposes.
These websites are called "starter sites." It's basically a site that costs lower than $200 and doesn't have any traffic going to it. You're going to have to master the game of traffic generation and self-promote it. In turn, you're going to have to do a lot more work than you bargained for.
The question you ought to be asking yourself is:  "Is there actually a better way than using automated Flippa websites to create an income?"
The answer is yes, there is.
Allow me to digress…
Let's talk about making money using the affiliate marketing business model.
Have you ever heard that you can actually have two people promoting two different products the same way? One product is $25, and another product is $1,000. And they make just as many sales?
I use to promote low ticket products online (any product under $100) until I realized that it took no more work on my part to sell a $5,000 product.
I realized that back in 2012 when I was promoting low ticket products. I was doing it through YouTube.
I'd promote a $25 product here, a $100 product there. I'd get 50% commissions. I was like grinding just to make right around $1,000 a month. Guess what I discovered?
All I did was I changed the offer that I was promoting. Instead of promoting a $25 product, I started promoting $500 products, $1,000 products and $3,000 products. Guess what? I ended up making 10 times the amount just by changing the product I was promoting.
RECOMMENDED: Go here to see my no.1 recommendation for making money online
How To make $300 Per Day With Automated Websites – 3 Ways
Let me give you 3 ways to make $300 per day with automated websites. Let's say you want buy a Flippa website without worrying about setting one up from scratch, It's a good idea (assuming you now know how to get traffic through SEO and know what you're in for). Make sure that you're monetizing on the front-end of the website as well as the back-end of the website. What I mean by that is when people come to the website, you can have ads from Google AdSense on your website, so when people click those ads, you get paid every time somebody clicks (no sale required)
What you can also do is you can add different products and promote different products on those web pages of your website, so you have multiple symbiotic income streams.
The third way is to have a little form on your website where people can opt in with their email address to receive a freebie.
After they receive the freebie they are added to your email list. Then, you can send them offers through email and receive back end sales.
This is a model that will give you full, true leverage in your business. You're not going to be working for peanuts.
What most people will continue to do is they'll make money the hard way by trying to go out there and post in Facebook groups, trying to go out there and struggle to do search engine optimization with no leverage. If you can have multiple streams of income on your websites and have symbiotic income streams, then this is something that you should definitely go with.
RECOMMENDED: Go here to see my no.1 recommendation for making money online
Conclusion
Although flippa websites can work extremely well, you need to know how to promote them properly.
If you want to get access a true automated business that's transparent and step by step go through the link here. We'll actually show you how to promote the right way, without low leveraged ways of generating traffic and website visitors.
You definitely want to be plugging into something that's going to give you the true freedom, the true leverage that's been missing in your life and inside your business.
With that said, Just because I'm creating this doesn't guarantee that you're going to create this. If you truly want to build a business that's long-term, that has longevity, where your income is going to be sustainable for the long-term, it's going to take the right mindset, belief and consistent effort.
Hope you enjoyed this post and if you did, let me know by commenting your thoughts below!
Please subscribe below to get automatic updates of my latest video blogs: