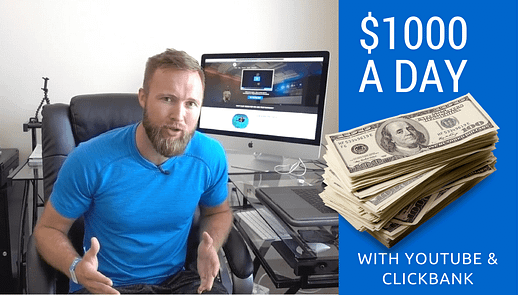 Hey, you!
Do you want to learn how to make $1000 per day online with YouTube and Clickbank?
Today, I'm going to reveal my extremely simple and effective 5-step system to making $1,000 per day. The only two things you'll need are your laptop and an internet connection. All I use is Youtube and ClickBank.
Now before all of you camera-shy entrepreneurs run for the hills, let me tell you this: even if you have never been in front of a camera before or haven't filmed a short video since the family Christmas party in 1999, don't freak out. I'm going to explain, step by step, how you can leverage video to build a substantial income online.
Watch the video below:
(Click Here To Watch On Youtube)
Do you want to learn how to make up to $1,000/day + promoting digital products that pay better than clickbank? CLICK HERE To Get Access To My Top Recommended System
5 STEPS TO EARNING $1,000 PER DAY ONLINE With YouTube & ClickBank
Step One: Choose Your Market
Your market needs to be something that you are most likely passionate about. This is typically something you know a lot about and won't get bored or burnt out easily.
I would recommend choosing something within the Health, Wealth, or Relationship categories. There is a lot of pain and competition in these markets. It will be a good space for a starter to begin operating within. Once you become more advanced and master this process, you'll be able to use YouTube (and ClickBank) to sell literally anything.
But, maybe you have no idea what type of market or niche you want to explore yet. That's okay — there are tons of websites out there that can help you figure it out. You can use Google or Amazon to discover trending topics, markets and industries right now. You can even use a website called ClickBank (I'll talk more about this in a second).
Step Two: Pick a Product to Promote
Now that you have chosen your market, you need a product. Without a product, you've got nothing to sell to make money.
The best part about this process is that you don't have to create your own product! You can utilize something called an "affiliate network" to promote products that already exist within your market. This allows you to pick a product within your niche and obtain an affiliate link for that product, coded specifically for you. Any sale you make using that link, you earn a piece of the profit.
This is the marketing style of the 21st century. Word of mouth advertising is the most trusted form of advertising in today's world. Because of this, more people each day are beginning to transition away from traditional style businesses and into affiliate marketing.
There are plenty of affiliate networks across the Internet, but we will use ClickBank as an example. If you go to ClickBank.com and sign up, you can choose a category and then browse those products. Choose a product to receive your affiliate link, and get promoting!
Here's a tip: when looking at ClickBank, sort the products within your selected category by popularity. If you choose a product that is popular, this proves that there is effective and sufficient sales material for that product.
Lastly, choose a product that you can support. Take the extra five minutes to ensure that this product is something you can put your name on, 100% without a doubt. Don't just choose the product with the highest commissions, choose a product that gets you excited to promote!
Step Three: Pick a Video Topic & Draft Your Script
Spend 5–10 minutes doing some basic research regarding your product. Usually, this is a major pain point or huge desire within the marketplace that your product can solve.
For example, if you are teaching people how to loose weight, you would probably want to talk about specific foods to avoid eating that would help with weight loss.
Once you've done your homework, it's time to begin constructing your video. Create a short script for a 2–3 minute video about the topic you chose. Your script should address the relevant issue or need that your product will ultimately solve. You'll want to talk about the pain point, relate to the viewers in some way, and then give them a solution with a Call To Action (CTA).
The entire point of this process is to take a viewer of your video and turn them into a customer, right? Hopefully you answered "yes," because that's the only way you'll get paid.
Well, the only way to do this is to make sure you remember your Call To Action. This is the part of your video (usually somewhere towards the middle and at the end) where you encourage your viewer to click the link to your product in your description. Having a few different CTA's throughout your script will largely impact the amount of people who will actually move from your video to your website/affiliate link and purchase your product. Don't forget this part when writing your video script!
Spend roughly 5 minutes practicing your script. If you're a perfectionist, don't worry — this doesn't have to be perfect. Don't practice too much or you'll sound like a robot.
You'd be surprised at how many sales I actually made when I first got started online. I was terrible. But, I tested this exact system on my brother (who had never shot a video before in his life) and he was able to create his first three sales in week 1 using and leveraging YouTube.
Step Four: Shoot Your Video
It's time to get in front of the camera! This part is simple. Now that you've scripted and practiced your video, we want to actually begin filming.
Again, don't worry about fancy equipment and software. Don't worry about perfection, just worry about getting the video up! It's totally fine to use a camera on your laptop or smartphone.
When shooting your video, be sure to find a quiet spot with decent lighting and no distractions. You'll also want to have a background that relates to your topic.
If we continue with our weight loss example, maybe having a gym or yoga studio in the background of your video could help build your credibility with your viewers.
Once you have your equipment and your scenery, you're ready to film and upload your video!
Step Five: Promote Promote Promote
You did it! You made your video! You chose your market, chose your product, determined your video topic, and uploaded your video to YouTube. Now, you need people to see that video. Potential customers.
There are hundreds of different ways to promote your video to potential viewers and customers. You have social media, such as twitter, Facebook, Instagram, Snapchat, etc. where you can share your video with family and friends but also (if you have a small budget) use their paid advertising platforms to increase these chances.
You can also use other methods like Search Engine Optimization (SEO) to help rank your videos at the top of YouTube and Google, as well as put your video on any blogs or other websites and communities inside of your particular market.
There you have it! Easy as 1, 2, 3 (and 4, 5). If this simple 5-step system gave you value, feel free to share with a friend!
Do you want to learn how to make up to $1,000/day + promoting digital products that pay better than clickbank? CLICK HERE To Get Access To My Top Recommended System
Please leave a comment below or let me know any questions you have.  I'd love to hear what you think!
Please subscribe below to get automatic updates of my latest video blogs: